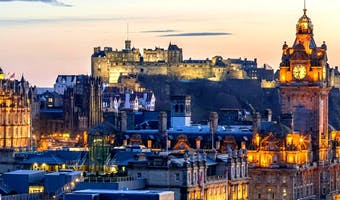 Invest Edinburgh reached out to the city's leading business figures and companies to discover why Edinburgh is such an attractive investment destination.
ShareIn Case Study
Jude Cook believes all kinds of investment can and should happen online.
"The days of paper brochures and posting cheques are long gone," says the chief executive of Edinburgh-based fintech business, ShareIn. "We provide both a digital tech and compliance service that lets our clients connect with their network and raise capital. We take away the headaches of operating a website, managing payments and financial regulation. This means our clients focus on what they are good at – finding great deals and building their investor base."
Launched in 2013 as a crowdfunding marketplace to help technology and healthcare businesses meet their funding goals, Cook – a chartered accountant – and her co-founder Andrew Pickett – an experienced web developer – stumbled across a huge demand for off-the-shelf crowdfunding websites. ShareIn now specialises in building white label crowdfunding platforms that users can customise to their own brand and market, with an optional fully authorised financial regulation service.
Focus on fintech
"In 2014, we decided to change our direction, or 'pivot', to focus on what we're really good at – finance and technology – as we felt there was a gap in the market," Cook explains. "We raised $1 million in investment to build a team with this new business model. Our change in direction has served us incredibly well and the phone hasn't stopped ringing ever since.
"Combined client transactions by volume make us one of the largest crowdfunding operators in the UK and we continue to grow at a rapid pace. Whether it's a property asset manager opening up to retail investors, or ensuring more renewable energy projects in the UK get funded – we provide the technology."
ShareIn has been directly authorised by the Financial Conduct Authority since 2014 and in 2016 became authorised to manage Innovative Finance ISAs – a tax-free savings wrapper for those investing in crowdfunded projects.
"This is a highly regulated sector and we firmly believe that appropriate regulation is key to the growth of this sector," Cook says. "We're founding members of the UK Crowdfunding Association and we are considered to be the UK's experts in crowdfunding technology solutions."
World-class talent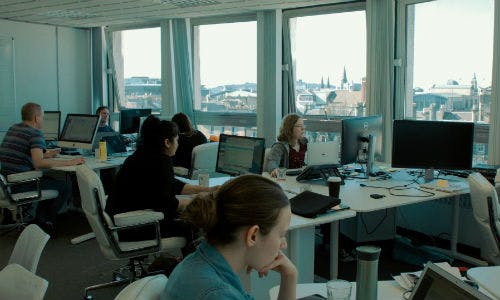 "We have a hugely diverse team, which has been fundamental to our growth," Cook says. "More than 50% are female; we have a very broad range of ages and a wealth of nationalities.
"Being based in Edinburgh, we've been able to tap into world-class talent coming out of the local universities and the city's growing reputation as a tech hub. Financial technology (fintech) is also emerging as an important strategy across Scotland and we're really pleased to be part of that."
You can view the full case study here.
Tags: In The News